CLENDENIN, W.Va. — When the flood created an endless waterfall off the hillside behind her trailer home on June 23, 2016, Libby Shafer had to quickly improvise.
There's about 6 feet from the hillside to the backside of her trailer's garage, and the water level was rising up the side of the garage quickly. With her then 6-year-old great niece Payton Smith with her, Shafer opened the back door of her garage, but the water started to flow into the garage rapidly, too. But fixing that turned out to be easy.
"I just opened the garage door and let it keep flowing down to the creek," Shafer said.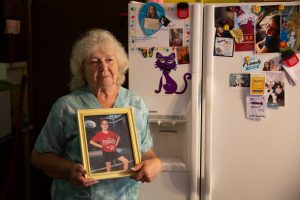 Shafer was able to keep the flooding from destroying her garage, but it completely devastated the basement of her Clendenin, West Virginia house and left it covered in mold. For three years, there's been no way to fix that. There's a creek in between the trailer and the road, and the flood destroyed the bridge that crossed the creek.
Now, three years later, Shafer and her partner Wayne Tyler are finally getting their bridge rebuilt, thanks to the West Virginia chapter of the Volunteer Organizations Active in Disasters, known by the acronym VOAD.
For Jenny Gannaway, executive director of WV VOAD, being able to direct where all of the volunteers go is vital to making sure the organizations are "not stepping on each other's toes."
"For instance, with all the flood buckets after a flood, we don't want them all to go to one town and not the other towns," Gannaway said. "We coordinate together and we work together so that everybody is taken care of."
It was Gannaway's idea to start the Bridge Project in the aftermath of the 2015 and 2016 flooding in the state, which hit Clendenin particularly hard. While FEMA declared both federal disasters, damage that occurs on private properties can't be touched by either the federal or state governments.
"There's a lot of things we can do that the state and the federal government can't do," Gannaway said, referencing the 2012 derecho that drilled West Virginia. "A lot of trees fell on top of houses. The state government could clean trees off of roads, but they couldn't take the trees off of houses. That was very important to have the voluntary agencies that are skilled and able to go in and cut trees off houses, put tarps on houses."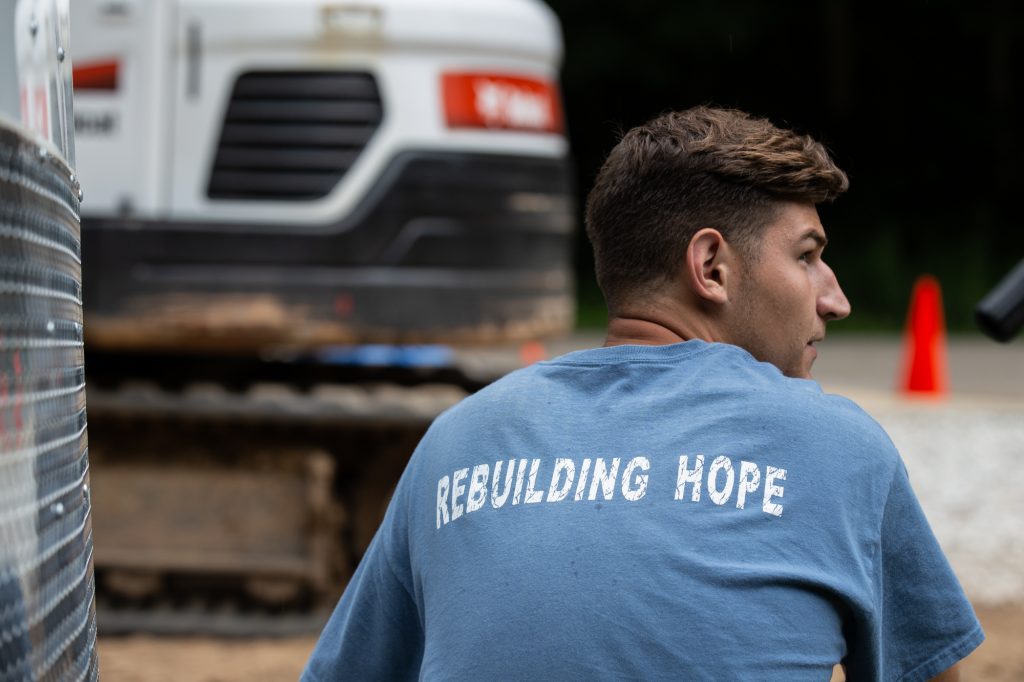 One of the main VOAD organizations helping with the Bridge Project is the Mennonite Disaster Service (MDS) Based out of Lititz, Pennsylvania. One of the seven founding members of the National VOAD back in 1970, MDS Executive Director Kevin King said the faith-based organization knows no other way to be.
"I think it's in our genes. We take the Sermon on the Mount in the Gospels seriously, where Jesus says, 'Whatever you have done unto the least of these, my brethren and sisters, you've done unto me.' Our churches, our volunteers see this as a way of practicing their faith in a real hands-on, tangible way."
Being able to show up in-person as volunteers and do hard, physical labor like with the bridges is the most vital thing a VOAD like MDS can do, according to Gannaway. But money matters too, and King says 75% of MDS funding come from their fellow Mennonites, in whatever increments they can get.
"Recently, a 10-year-old child came in here and said they had a lemonade stand and they gave us their 16, 17 dollars from that for disasters," King said. "And a donor last week called and said, 'I hear you're buying a tool trailer for the recent tornadoes. I'd like to contribute $20,000.' So most of our giving is from our constituents and from our churches."
The Mennonite Disaster Service was not at Shafer's home to help build her bridge, but the workers from WV VOAD who were there wore shirts from MDS. Gannaway said that MDS was essential for getting the project kicked off and reaching their goal of a simple and duplicable blueprint.
"What we wanted was something like a cookie cutter project that volunteers can do," Gannaway said. "We have a design now that is mitigating and raising the bridges up out of the creeks. But it's in there safe and secure because we use a power drive to drill into bedrock.
"So if those bridges come out, we're all in trouble."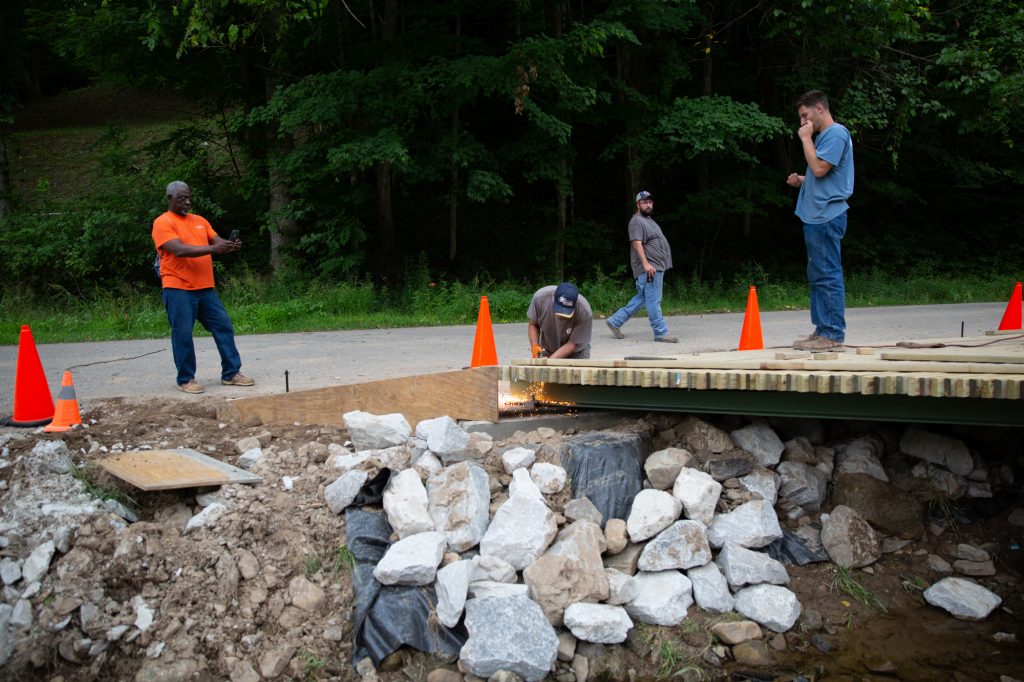 That's really important for Shafer. The 78-year-old woman has lived at the same location for more than 30 years and has watched the creek flood three times. But 2016's flood was by far the worst, and scattered things all throughout Clendenin.
"I've seen stuff wash down this creek that you wouldn't believe could wash down a creek," Shafer said. "Baby swimming pools and balls and coolers. I caught one cooler that belonged to a man who lived nearby, and he came down and said, 'That's my cooler.' I said,' Yeah, I fished it out of the creek with a rake.' It's been weird and it's been a long, hard time, but we've made it so far."
The mold is only adding more complications to Shafer's already dire health situation. She's been sick for the past nine years, saying the doctors she's seen, "don't know, to this day, what happened to me."
It's taken a turn for the worst at times since the flooding. But there's one thing that Shafer credits for keeping her alive: her great-niece Payton, now 9 years old.
"When I got really sick, this little girl took over me. And if it hadn't been for her, I wouldn't be here today," Shafer said. "I used to get out of bed at 10 o'clock in the morning, lay down there on that couch until about 10 o'clock at night, then go to bed. I didn't have no energy, I didn't care whether I ate. I don't remember what happened and I didn't care. But now? I'm gonna make it."
Thanks to her great niece's uplifting spirit, Shafer's excited for what will happen with a new bridge that can accommodate major construction equipment. Shafter and Tyler are moving to a temporary house while someone comes in to replace their trailer with a brand new one. She only has one request for her new trailer: raise it as high as they can put it.
"I hope it's 5 feet in the air," Shafer said. "Then I won't never have no more trouble with water."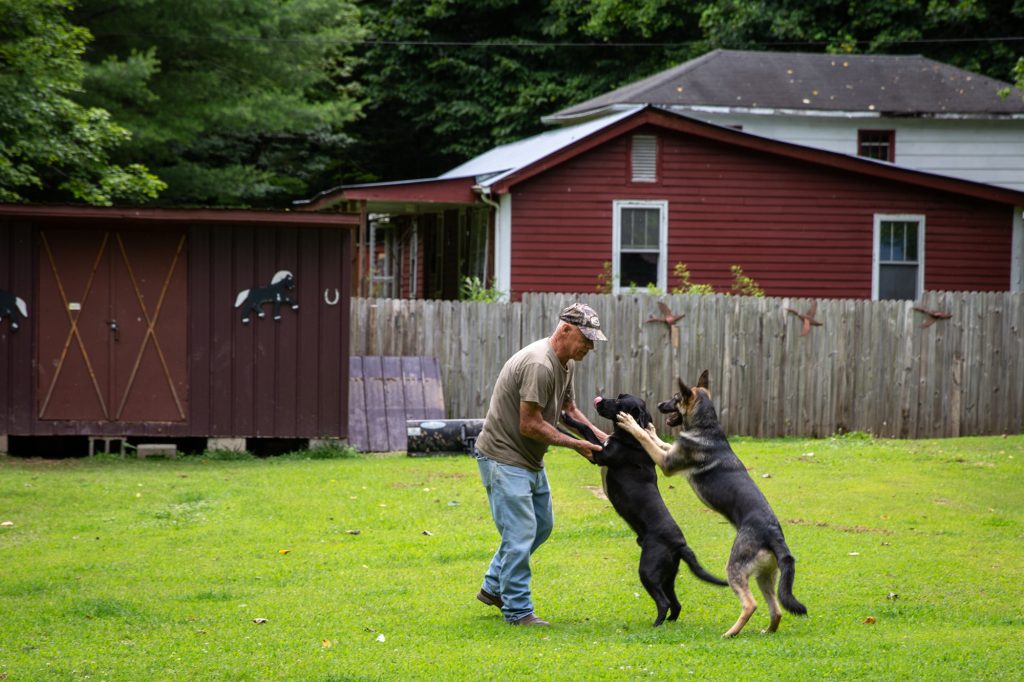 And because people like Shafer are still feeling the impact of the floods more than three years after they happened, Gannaway said there's more work they can continue to do.
"We're still as busy today as we were then with helping families recover," Gannaway said. "To see what we had to do with recovery, I think we've done a great job. I think we've learned a lot that we can take forward."
And Shafer could not be more grateful.
"I really am glad that they've done it for me," Shafer said. "Now, my mind runs 24 hours a day trying to figure out what to do next."
News21 reporters Allie Barton, Briana Castañón, Justine Coleman and Isaac Windes contributed to this report.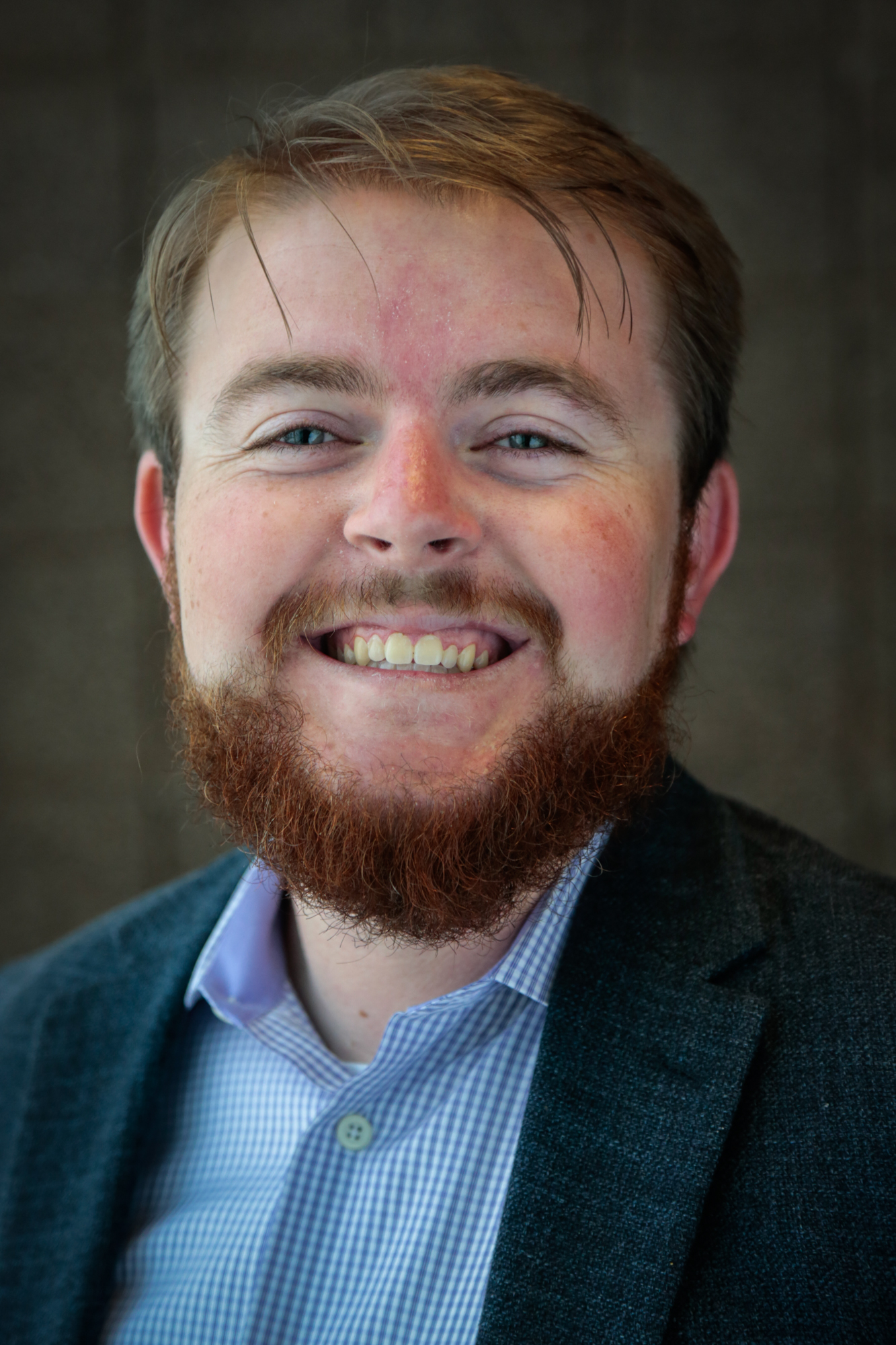 Alex Simon is a master's student at Arizona State University's Walter Cronkite School of Journalism and Mass Communication. Born in the San Francisco Bay Area, Simon attended Elon University in North Carolina and received a bachelor's degree in broadcast journalism. During his time there, he was the sports editor of the Elon News Network, the student news publication on campus. Simon has also worked as a writer for MLB.com, Baseball America, High Post Hoops and the Burlington (N.C.) Times-News. View his work here.