PANAMA CITY, Fla. – The 80-foot pine tree stood on the edge of Greg Dossie's Panama City, Florida, property his entire life. Storms came and went. Hurricanes, too. Still, the giant pine remained.
Then came Michael.
On Oct. 10, 2018, Hurricane Michael landed at Mexico Beach, Florida, and swept across the Gulf Coast westward through Panama City. The brunt of the damage from the massive storm stopped short of the highway bridge that divides the tourist-hub Panama City Beach from its underlooked neighbor, Panama City proper.
Along with leveled buildings, downed electric poles and wide scale debris, the storm also brought psychological trauma upon Panhandle residents who, more than eight months after the hurricane, are still recovering physically and mentally.
"People here, whenever we hear a heavy wind, we see the rain, now we get the PTSD, the anxiety, the depression," Dossie said. "I'm seeing a psychiatrist about it. I have no problems telling everybody about it."
Since Hurricane Michael, many residents of the Florida Panhandle – including Dossie – have dealt with mental health issues related to the storm.
As many as four in 10 survivors can experience a mental or behavioral disorder after a natural disaster, according to the American Psychological Society.
A study on mental health from Bay District Schools reported a shortage of mental health resources in Bay County was made worse with the increased need for mental health services after Hurricane Michael.
Project Hope is a prevention-oriented crisis counseling program in Panama City funded by FEMA and meant to help individuals affected by Hurricane Michael. It offers free mental health services for community members struggling with the mental toll of the hurricane aftermath.
Mental health experts warn that trauma peaks seven to 10 months after a storm, putting Panama City currently in that range.
As the storm rattled the walls of his house, Dossie realized that this storm would hit harder than the many that came before it. Slowly, the confident excitement he had in the calm moments before the storm hit turned into fear and panic as the severity of his situation became as clear as the reality that he had no choice but to stand pat.
Dossie waited out the storm from inside the bathroom of his home as Michael reshaped the landscape outside.
"Hurricane Michael came to me, literally knocking on my door, tearing my windows down," Dossie said.
Then he remembered the pine tree looming above his home as it always had, but now, waiting to drop like a hammer at the unpredictable discretion of Category 5 wind speeds.
Dossie outlasted the storm, however, his property was less fortunate.
It took 26 days for him to regain power, and the neighboring structures on his lot – including the house he grew up in, just feet away from the house he currently resides in – were severely damaged by the storm.
"At that moment, I got all afraid and stuff like that, shaking because I realized I'm a house-and-a-half away from what could have possibly been my death," Dossie said.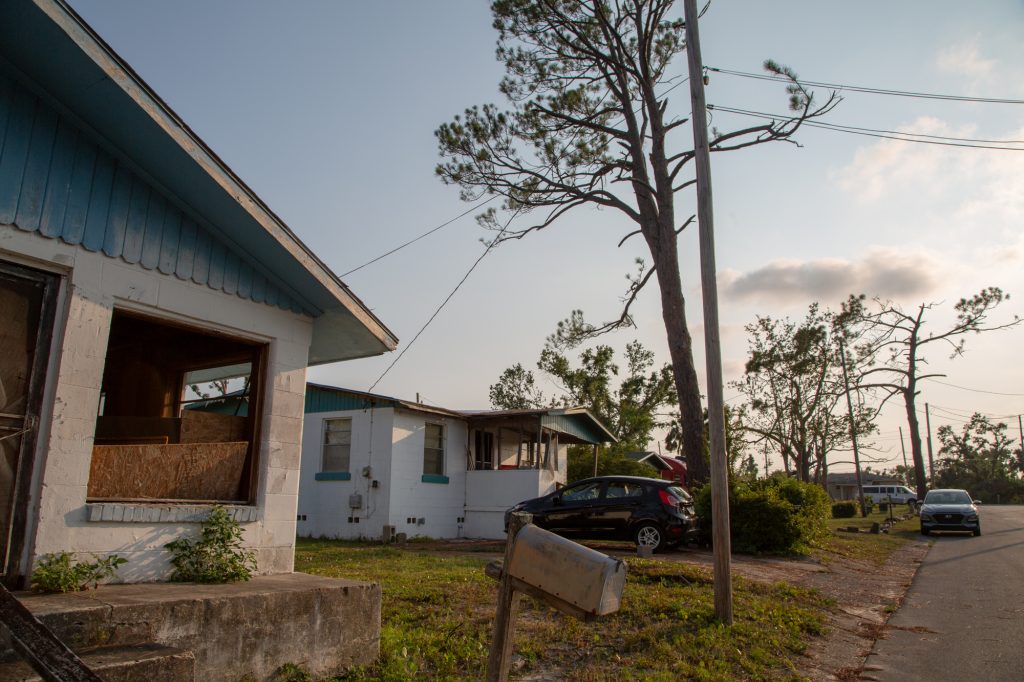 After Hurricane Michael, the roots beneath the pine tree slowly began to pull above the ground and brought a lean and wobble to the tree's ordinarily upright posture. When the rain falls, the soil around its roots softens and the risk of it toppling through Dossie's already damaged house increases.
On top of the headache of coordinating the recovery of his home damaged by the storm, Dossie said he spends each night with an added fear that the timber will come crashing through what is left of his house while he sleeps.
"I appear to cope, but I have my moments," Dossie said. "When the wind's blowing, I'm peeping out my window at that tree."
Inflated prices for tree removal services – one of several forms of price gouging reported by residents in the area – in addition to a lack of insurance and resources from FEMA combined to prevent Dossie from cutting down the tree threatening his home.
The mental toll that accompanied the long grind of recovery presented itself throughout Bay County in the aftermath of Hurricane Michael.
"We've had a lot of suicides," Bay County Sheriff's Office Financial Crimes Investigator Dennis Rozier said. "We've had a rise in suicides here which is pretty tragic in itself. Hasn't been good."
More than nine months later, Panama City is faced with an uncertain timeline and path towards full recovery.
"You're looking at a year or two from this point, probably," said Trey Hutt, president of Hutt Insurance Agency in Panama City and a resource for locals navigating the recovery process. "Full recovery of the community might be three years, five years, 10 years. We really don't know."
The towering, unstable tree still teeters outside of Dossie's home as he, and the rest of the city, endures the elongated recovery process post-Michael.
"I look at it like I have a mental injury, not a mental illness," Dossie said. "With an injury, just like if you injure your foot, you go to the doctor. You get your foot healed. And then you know you're back at it again. So then I get my mental psyche healed and I'm back good to go."
News 21 reporters Katie Hunger and Sarah Beth Guevara contributed to this report.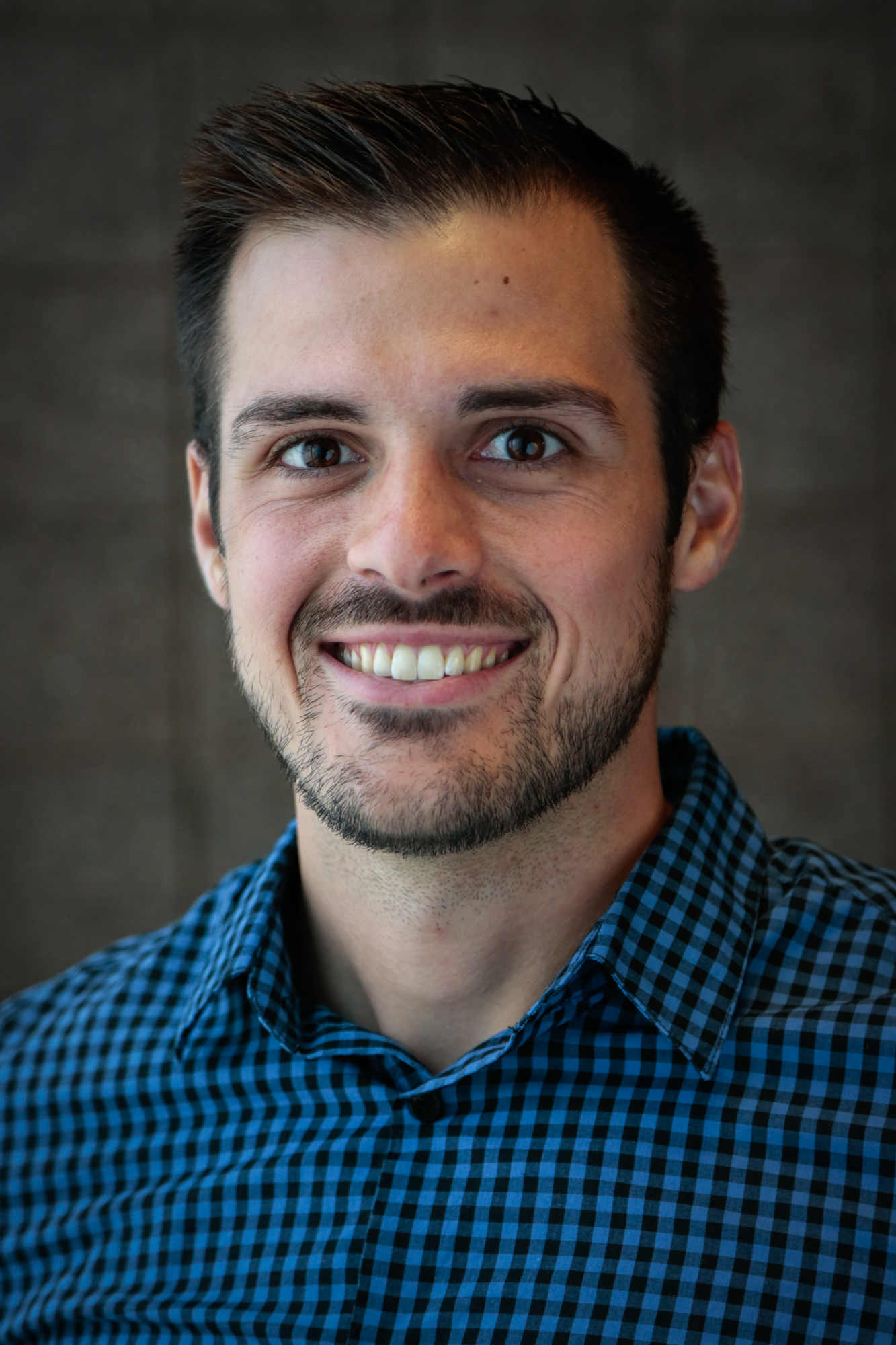 Jake Goodrick is a recent graduate of the Walter Cronkite School of Journalism and Mass Communication at Arizona State University, earning a master's degree in sports journalism. Before Cronkite, he graduated summa cum laude from Cleveland State University with a bachelor's degree in psychology. As a reporter for Cronkite News and Arizona PBS, Goodrick covered the Phoenix Suns, ASU men's basketball and the Chicago White Sox. His work can be found in The Arizona Republic, Indian Country Today, The Navajo Times and MLB.com.